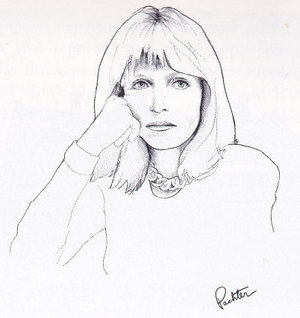 Canada's pre-eminent society columnist and gossip-writer in the 1980s and 1990s, Rosemary Sexton's third book describes her life in Ottawa as a judge's wife.
Her first book, The Glitter Girls, chronicles the rise and fall of Toronto high society women who threw lavish parties and raised millions of dollars for charity. The book describes their extravagant yet hard-working lifestyle, replete with wealthy husbands, mansions, chauffeurs and household help. It also details their quarrels, back-biting and intense competition to rise to the top. They could perhaps be described as the precursors to the "housewives" on today's television reality shows.
Confessions of a Society Columnist reveals the untold story behind the hundreds of newspaper columns penned by Sexton from 1988 to 1993. It tells of her behind-the scenes battles with copy editors, her struggles with publishers and the political infighting at The Globe and Mail during her stint there. As well it publishes for the first time the letters, both complimentary and critical, she received as society columnist for Canada's national newspaper, the columns which got cut and/or canned and the diaries she wrote concerning the fall-out from The Glitter Girls.
In her third book, Home Before Dark, she writes about the pleasures and perils of living life in Canada's capital city in the somewhat cloistered existence of a judge's wife.
Rosemary Sexton's writings will be of interest to women of all ages who follow the social scene or who have themselves engaged in charity and volunteer work. She describes the conflict that wives and mothers feel about choosing a career or staying at home and how volunteer work can act as a bridge between these two worlds. Her work is lively and gossipy and truthful and gives a glimpse into how the rich and famous actually conduct themselves, behind closed doors, in the fast-paced and cutthroat world of high society with all its ferocious fund-raising and glamorous galas.
Daughter and wife of a judge, she grew up in the northern Ontario town of Haileybury ON (population 2,500) . She taught high school for five years in New Liskeard and Owen Sound before moving to Toronto with her first husband and daughter where she graduated from Osgoode Hall Law School. After a son was born, she worked as a tax lawyer and a film censor. In her next decade as a stay-at-home wife and mother, she served on thirteen volunteer boards. In 1988 she was hired as a society columnist for The Globe and Mail. The Glitter Girls, a Canadian bestseller, was published in 1993; Confessions of a Society Columnist came out in 1995. She worked as a columnist for the National Post from 1999 to 2002. She has also contributed articles to Maclean's magazine.