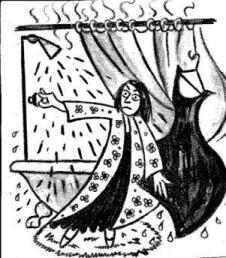 HER GOWN WAS DROWNED
The City of Lights went dim for visiting society columnist
The GIobe and Mail December 11, 1991
As two important Canadians standing in the lobby of a Paris hotel discussed an embassy function, the red-faced society columnist for Canada's National Newspaper, who was sitting nearby and also staying at the hotel, sank down in her seat. She had not attended any embassy function, nor even been able to see the Paris ballet as planned because of an unfortunate mishap.
It was an inauspicious beginning to a long-awaited holiday in France. Little did she know that things were about to get worse. But I'll begin at the beginning.
Tuesday
The first of three days holed up in a hotel room the size of a large cupboard while husband was at business meetings from morning to night. At 7 a.m. husband takes shower, but afterward it won't turn off. Trying to fix it, husband soaks and ruins party dress hanging in the bathroom brought to wear to the ballet while husband attended enbassy dinner. Call and cancel. Spend evening sprawled on bed in large cupboard watching Bewitched re-runs dubbed in French. Order dinner from rooom service plus two manhattans specifying they be made with Canadian rye. Drinks arrive full of bourbon. Choke them down to accompaniment of leaky shower. Throw pillow at husband when he arrives after having hobnobbed with the Mulroneys et al. until midnight.
Wednesday
Go shopping in the cold and rain to escape hotel room. Walk for hours through the streets of Paris attempting to soak in atmosphere of City of Lovers. This attempt hampered by several things- I am all alone, invariably ignored or berated by surly waiters and have trouble crossing the street. At busy intersections no one obeys the traffic lights but me. I nearly collide with either pedestrians or cars or both.
Thursday
Luggage boy arrives at 7 a.m. to check shower. Thinks he has it fixed
and turns nozzle to look at it. Shower soaks him. Leaves room muttering unrepeatable French curses. At 7:30 a.m., room service waiter arrives armed with large wrench and hammer. Husband points to cupboard behind bathroom where shower pipes seem to be located, but waiter proceeds to the other side of the bathroom. With aforesaid wrench manages to turn off water pipes leading to the toilet and sink. Shower continues to pour. 8:30 a.m. concierge arrives. Husband again points out cupboard containing water pipes leading to shower. Concierge shakes head. In disgust. Husband opens up cupboard, removes shelves, locates taps and turns off shower. Water flow
ceases immediately. Concierge throws hands in the air and leaves.
At noon, gratefully check out of hotel and leave Paris to visit beauti­ful chateaux in the Loire Valley. Can't find Loire River. Discover it is muddy stream we've been driving along for several hours. Check into inn to be greeted by noxious fumes wafting into the room at regular in­tervals throughout the evening. Somewhat paranoid, proceed to check plumbing here. Discover odours are coming in window from polluted Loire.
Saturday
Arrive at old converted monastery at 10 p.m. after meandering for seve­ral hours around unmarked country roads in dark. Fall into bed and try to sleep despite thin walls and loud­ mouthed couple next door who re­view over the phone in minute detail their son's day with his babysitter.
Monday
Due to jet lag, long days in Paris and getting lost, husband gets flu. Ask to be transferred to a larger oom in the old chateau – the night before, we were the only guests to eat n a cavernous dining room seating 500. "C'est impossible," says the desk clerk. "We are completely full." Try again with a new desk clerk that comes on duty at 5 p.m. "You have asked too late," she says. Spend night in chateau's smallest room as the other 29 rooms go unoccupied. Order up to room one meal for me and consomme for sick husband.Charge for sumptuous meal when we check out: $75.
Tuesday
Decide to leave France four days earlier than planned. Drive to Tours train  station from Loire Valley.Dropped off by husband to change day of pre-booked and pre-paid first-class train ticket while he re­turns rental car. Ticket agent shakes head: "Payez-moi 'deux cent qua­rante francs en plus." Desperate to .board train, I'm ready to pay any­thing, but wallet is in suitcase with husband. Turn away from wicket in tears. Just then, the agent, seeing me upset, changes the tickets to coach  and calls "Attendez," stamps ticket and hands me some change. "Merci," I cry gratefully as I run from station, tightly clutching stamped ticket and unexpected windfall of cash.
Wednesday
After speedy train ride on the TGV, which takes I hour to go 200
kilometres (VIA Rail take note), spend two hours in a Paris taxi driv­ing 25 kilometres from the train sta­tion to airport. Driver chain-smokes and turns car radio on full blast to rock music station. Proceeds to get lost at the airport looking for hotel despite clearly marked signs show­ing way. Finally at our destination,we pilei out of cab, pay fare and go to bed. Nothing left to do but catch noon flight the next day – we thought.
Thursday
Wake up to fog. Call at 10:30 a.m.to check on noon flight. Informed plane is delayed one hour and will not take off until I p.m. Ask if I p.m.departure a certainty. Reply is yes. Decide not to jump on Canadian Airlines plane which leaves, as scheduled, at l I :45. Arrive at airport at 12:30 to be informed Air Canada plane is delayed until 5 p.m, Nearby counter advertises Air Liberte leav­ing for Montreal at I :45. Check with ticket people: plane not full. Air Canada agrees to endorse tickets for Air Liberte. Air Liberte refuses to
take us, since there is no meal pre­-ordered for us on the plane. "Je suis
desole, je suis tres desole," repeats young woman dressed all in green to
whom, it appears,all decisions at the charter airline have been relegated.
"No dinner, no passenger." Air Lib­erte leaves on time without us.
Hang around airport until 7 p.rn, when flight finally begins to board
passengers. Husband asks at board­ing gate for our boarding passes.
"Where were you when we handed out the passes at noon today?" asks
haughty young ticket-taker. Weary and fed up, normally complacent
husband blows top. "What business is it of yours where I was at noon
today? Where was your goddamned plane at twelve noon today?" he
yells, catching the attention of flight director standing nearby. Flight di­rector
does double take. Points at bald husband and starts laughing. "I know who you are," he says."You're that man in the Goodyear Tire commercial who points to charts which say Goodyear sells tu­neups, not just tires."
. "That's right,". responds my quick-thinking husband. "I knew it," flight director chortles gleefully. Turning to young woman, he barks out a command: "This is a very im­portant man. I've seen him on television. Issue him his boarding pass immediately. "
We sink into seats on the plane giddy with relief; Observe flight di­rector proceeding down aisle toward us. We look at each other in horror. What next? Flight director looms over us, grinning broadly: "I really like your charts," he enthuses to husband. "Thank you," husband weakly responds, barely keeping a straight face. As flight director moves down aisle out of sight, we double over in our seats; tears streaming down our cheeks .. Our loud snorts of laughter can be heard all over the plane. The trip from hell is finally over.