Home Before Dark consists of Rosemary Sexton's Ottawa diaries from 1998 to 2002. It chronicles the circumscribed and somewhat privileged life of a judge's wife in Canada's capital city at the turn of the century.
Advance Praise for Home Before Dark
"ROSEMARY SEXTON has successfully cultivated her starring role as the Boswell of Canada's upper classes, to which she herself so spectacularly belongs. Her third book has a welcome edge that reveals a multi-talented writer, giving away society's secrets with literary skill and a scalpel that sometimes cuts to the bone. This book is her coming out party. Buy it." –Peter C. Newman, author of the best-selling Canadian Establishment series; legendary Canadian journalist, author, magazine editor.
"This is sly writing, Sexton gets you engaged with stuff (and people) you never thought would catch your interest: sudden stiletto jabs, intimate personal info, fearless judgments on figures who probably didn't expect it." –Rick Salutin, playwright, novelist, former Globe and Mail and current Toronto Star columnist.
"Don't be fooled by appearances! That beguiling blonde with the mega-watt smile is also a reporter with a knack for spotting and slyly deflating pomp and pretension. In her society columns for The Globe and Mail and National Post, one never quite knew when Rosemary Sexton would lower the boom on some hapless mover and shaker, but you knew sooner or later she would, and that promise kept you coming back for more. Home Before Dark shows there is life after the 'Glitter Girls' and offers glimpses into a quieter and more reflective side where quotidian detail is blended with often candid confession. A few surprises along the way, too – but, since we're talking about Rosemary Sexton, I guess that's no surprise." –John Lownsbrough, award-winning journalist whose latest book is The Best Place to Be: Expo 67 and Its Time.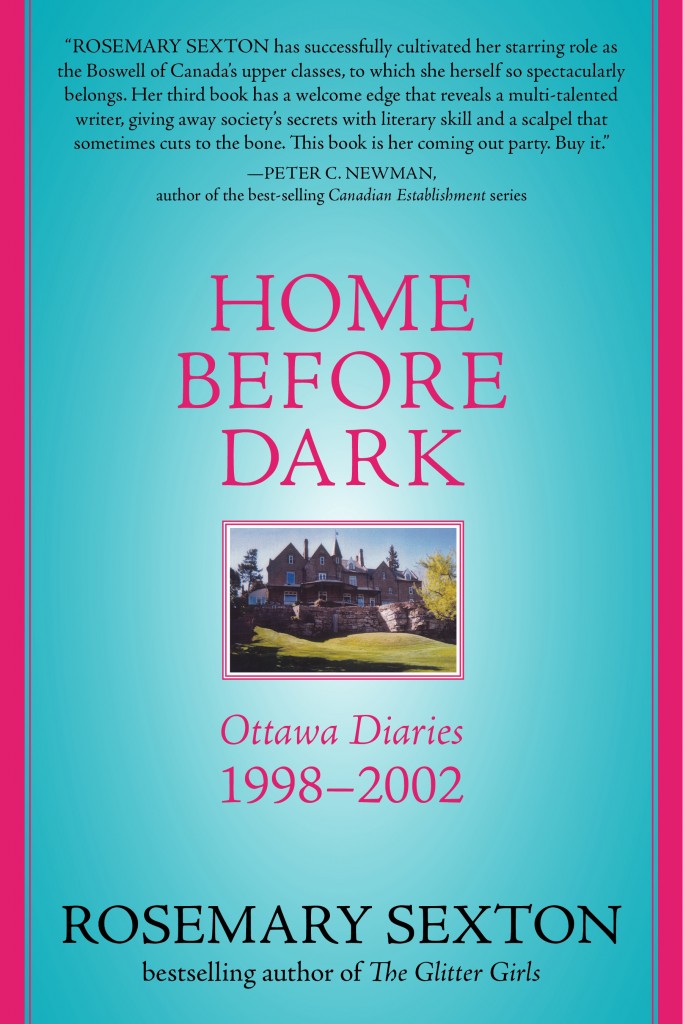 "There is always something quite delicious abut reading other people's diaries, even when they don't mind. Rosemary Sexton's Ottawa diaries are not only full of the characters, colour, and telling details that marked her career as Canada's leading gossip columnist, they also reveal a private person struggling with family issues and contemplating the passage of time and its effects on her and those around her. She keeps returning to the life and fiction of the modernist writer Kathrine Mansfield, who died of tuberculosis at 34, as a reference point for her own life. In short, this is a book which is both public and private, chatty and thoughtful, happy and sad, a bit like life itself." –John Godfrey whose many hats include college president, newspaper editor, MP, cabinet minister and currently headmaster.
"Rosemary Sexton has done it again. A humorous and enlightening take on the double life of a society chronicler who also happens to be a judge's wife." –W. Gifford-Jones, pen-name for Ken Walker, MD, gynecologist, columnist and author.
Rosemary Sexton's diary is an effortlessly dazzling look into the behaviour of Canada's rich and famous. At times the dagger is inserted between the third and fourth ribs and then removed before the recipient feels any pain; more often she presents a very Canadian — amiable, gentle, civil — look at those who qualify for the country's upper classes in their underwear. (Most of them are her friends and acquaintances.) She misses nothing. Always her reports are wonderfully observant and intelligent. And funny. And in these days when inequality threatens the country's social cohesion, it's so healthy to have the renowned and the abundant examined under her microscope. –Michael Valpy, senior fellow, Massey College; former columnist and editorial board member at The Globe and Mail; award-winning journalist.
"I've always loved reading Rosemary Sexton. Constantly refreshing, amusing and informative. This new book is as good as anything she's written. Do yourself a favour and read it." –Sondra Gotlieb, bestselling author, National Post columnist, humorist and party-giver extraordinaire.
"Rosemary Sexton lives in another world — no, another planet, another universe. Our social circles are so far apart the only way one can even glimpse the other is through Rosemary's pen. She's a lovely writer but a more gifted observer, someone with an uncanny ability to make shopping at Walmart as tempting as dining with the U.S. Ambassador to Canada. I don't think of her as a society writer, though she was once Canada's best at The Globe and Mail, but as a travel writer: one who takes people like me into worlds they will never know and most certainly never even be invited to visit." –Roy MacGregor, author of Canadians: A Portrait of a Country and Its People; bestselling Canadian writer of fiction and non-fiction; award-winning journalist; Globe and Mail columnist since 2002.
"Rosemary Sexton is unique. She combines the canny eye of a society columnist with the shrewd instincts of a journalist who knows her way around the corridors of power. She skewers pomposity and pretense, be they found in the salons of Rosedale and Rockcliffe Park or in the backrooms inhabited by political power brokers". (When Geoffrey Stevens was managing editor of The Globe and Mail, he hired Rosemary Sexton and set her loose on the rich and famous and other stuffed shirts everywhere.) –Geoffrey Stevens, former managing editor of The Globe and Mail and Maclean's; political science lecturer at Wilfrid Laurier University and the University of Guelph; member of the Parliamentary Press Gallery for fifteen years; author or co-author of four books; weekly political opinion columnist.
"After Rosemary Sexton stopped writing her social column, she then retired to a quiet life as a judge's wife. Not so quiet, I realized after reading these lovely musings on her daily activities and the thoughts they engendered. She has created a time capsule that will be valued by legions of readers to come." –Ellen Roseman, Toronto Star columnist, former Globe and Mail columnist, author and instructor.